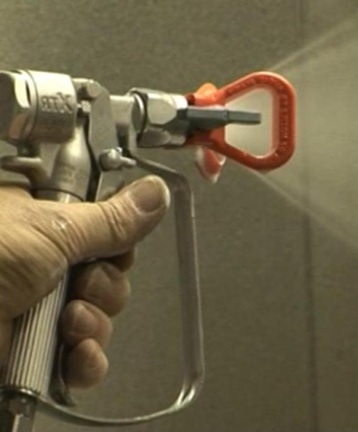 Whether you are spraying high viscous protective coatings or applying decorative emulsion paints, spray tip blockages can affect production rates if not remedied. When Spraytrain.com present airless spray training courses we provide information and improved techniques that eliminate spray tip blockages for ever. Surveys taken prior to training demonstrate that spray equipment operators say that spray tip blockages are their biggest problem.
When you book your training with Spraytrain.com we cover many issues such as: –
Improved health and safety through better procedures
Reduce coating waste through improved settings
Reduced spray booth extraction repairs through better transfer efficiency
Reduced equipment repairs though improved equipment checks
Better control of coating film thickness through optimised settings
Increased production rates through improved techniques
Reference books included for each student
Electronic assessment to confirm learning has taken place
As well as eliminating spray tip blockages
Use the quote form to get a price for a training course.